Larchmont Temple Library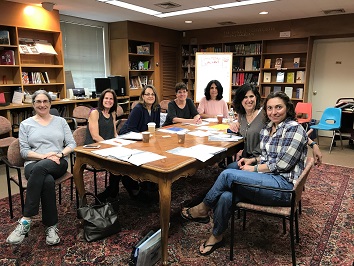 Please click on the following link to see a list of our acquisitions: Larchmont Temple Library Online Catalogue
Thursday, November 21, 8:00 PMJason Morris "Thicker Than Mud"
Larchmont Temple Library hosts an evening with author Jason Morris, an "alumnus" of LT and a perennial leader of Summer Chevre. The book's protagonist is Adam Drascher, a Jewish Archaeology professor at a small Jesuit college in the Bronx. Coincidentally, or not so coincidentally, Mr. Morris himself is a Genetics professor at Fordham University Lincoln Center in Manhattan. Without giving away too much of the book's plot: Everything changes for Adam when he discovers an ancient tablet that sheds light on the Healers, shadowy underworld figures in Canaanite myth and in the Bible … on the same day that he loses his grandfather, the man who raised him
Library Corner by Ze'ev Aviezer
With the beginning of another LT year, our library will be purchasing the latest books of interest to American Judaism. I am providing a representative sampler below:
Kaddish.com by Nathan Englander
One of Esquire's Most Anticipated Books of 2019, and Times Most Anticipated book for 2019 and
Larry is the secular son in a family of Orthodox Brooklyn Jews. When his father dies, it's his responsibility to recite the Kaddish, To the horror and dismay of his sister, Larry refuses - imperiling the fate of his father's soul. To appease her, Larry hatches an ingenious if cynical plan, hiring a stranger through a website called kaddish.com to recite the prayer and shepherd his father's soul safely to rest. This is Nathan Englander's freshest and funniest work to date - a satire that touches, lightly and with unforgettable humor, on the conflict between religious and secular worlds, and the hypocrisies that run through both.
The Flight Portfolio by Julie Orringer
In 1940, Varian Fry traveled to Marseille carrying three thousand dollars and a list of imperiled artists and writers he hoped to help escape within a few weeks. Instead, he stayed more than a year, working to procure false documents, amass emergency funds, and arrange journeys across Spain and Portugal, where the refugees would embark for safer ports. His many clients included Hannah Arendt, Max Ernst, Marcel Duchamp, and Marc Chagall, and the race against time to save them is a tale of forbidden love, high-stakes adventure, and unimaginable courage.
"Masterfully crafted and impossible to put down, The Flight Portfolio offers a testament to the enduring power of art, and love, in any form." —Entertainment Weekly
Memento Park by Julie Orringer
Winner of the 2019 Association of Jewish Libraries Jewish Fiction Award, One of Entertainment Weekly's 20 Books to Read.
A son learns more about his father than he ever could have imagined when a mysterious piece of art is unexpectedly restored to him.
After receiving an unexpected call from the Australian consulate, Matt Santos becomes aware of a painting that he believes was looted from his family in Hungary during the Second World War. By the time Memento Park reaches its conclusion, Matt's narrative is as much about family history and father-son dynamics as it is about the nature of art itself, and the infinite ways we come to understand ourselves through it.
An Innocent Bystander: The Killing of Leon Klinghoffer by Julie Salamon
On October 3, 1985, Leon Klinghoffer, a disabled Jewish New Yorker, and his wife boarded the Achille Lauro cruise ship. Four days later, four Palestinian fedayeen hijacked the Italian luxury liner and took the passengers and crew hostage. Leon Klinghoffer was shot in the head, his body and wheelchair thrown overboard. In this richly reported book, drawing on multiple perspectives, Julie Salamon dispels the mythology that has grown around that shattering moment. What transpired on the Achille Lauro left the Klinghoffer family in the grip of irredeemable sorrow, while precipitating tragic reverberations for the wives and sons of Abu al-Abbas, the Palestinian mastermind behind the hijacking, and the family of Alex Odeh, a Palestinian-American murdered in Los Angeles in a brutal act of retaliation.
Mon, October 14 2019 15 Tishrei 5780