Larchmont Temple Library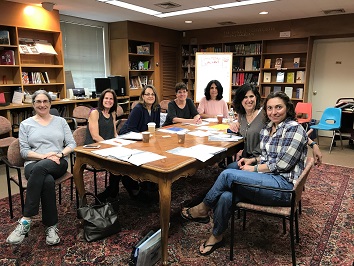 Please click on the following link to see a list of our acquisitions: Larchmont Temple Library Online Catalogue
Thursday, November 21, 8:00 PMJason Morris "Thicker Than Mud"
Larchmont Temple Library hosts an evening with author Jason Morris, an "alumnus" of LT and a perennial leader of Summer Chevre. The book's protagonist is Adam Drascher, a Jewish Archaeology professor at a small Jesuit college in the Bronx. Coincidentally, or not so coincidentally, Mr. Morris himself is a Genetics professor at Fordham University Lincoln Center in Manhattan. Without giving away too much of the book's plot: Everything changes for Adam when he discovers an ancient tablet that sheds light on the Healers, shadowy underworld figures in Canaanite myth and in the Bible … on the same day that he loses his grandfather, the man who raised him
Library Corner by Ze'ev Aviezer
As a result of a very generous gift the Larchmont Temple Library has been able to purchase reference books that will be of great help to members who are interested in deepening their understanding of the Torah, Talmud and the Mishnah.
Specifically the library's reference shelf now has a complete set of the Anchor's Bible Old Testament Reference Volumes. The Anchor Bible project, consist of a commentary series, Bible dictionary, and reference library. It is a scholarly venture begun in 1956, when individual volumes in the commentary series began production. Having initiated a new era of cooperation among scholars in biblical research, over 1,000 scholars—representing Jewish, Catholic, Eastern Orthodox, Protestant, Muslim, secular, and other traditions—have now contributed to the project.
The Library also purchased the Steinsaltz Edition of the Talmud, a Hebrew translation of the Babylonian Talmud that has a literal direct translation of the Talmud along with halacha (Jewish law) summaries and commentaries by Torah Scholar Rabbi Adin Steinsaltz. The translation started in 1965 and was completed in late 2010. The Temple purchased a new printing by Koren Publishers of Jerusalem which began to re-release volumes in 2012. The Koren edition includes full-color illustrations. The margins of this edition contain the standard Rashi and tosafot commentaries.
The library also plans to purchase the Mishnah.
Wed, November 13 2019 15 Cheshvan 5780