Learning Theme Program Projections... 5780
"What the world religions share is not so much a finish line as a starting point. And where they begin is the simple observation: something is wrong with the world…life is out of balance…They diverge sharply when they move from diagnosing the human problem to prescribing how to solve it… One of the most common misconceptions about the world religions is that they plumb the same depths and ask the same questions. They do not…Yet every religion asks about the human condition. Here we are in these bodies. What now? What next? What are we to become?" [God Is Not One, Prof Stephen Prothero, Introduction]

The Dignity of Difference Series
"…You don't have to believe in God to want to understand how belief in God has transformed societies from ancient to modern. And you don't have to be baptized into Christianity or married to a Muslim to want to understand the work that rituals do to the people who undergo them…The spiritually curious searching for new answers will find plenty in the lives of Hindus, Confucians…Even those settled in their religious [or nonreligious] ways should find opportunities to reimagine their religious commitments by comparing and contrasting them with different ways of being religious." [Prof Stephen Prothero, God is Not One; Introduction]
4th Friday Feature— Celebrating the Sacred Other …
6:30 PM Shabbat Family-Style Dinner…
Conversation in Covenant "No religion is an island." [Rabbi Abraham Joshua Heschel]
Guest Spiritual Leader/Teacher sharing a Table-Talk Dialogue Q & A…
8:00 PM Shabbat Worship
With Guest Spiritual Leader/Teacher highlighting different ways of being religious,
Sharing key aspects of their tradition/ritual, conveying key aims of their faith.
Next One wFriday, January 17th we welcome members of Strait Gate Church and their spiritual leader Bishop Wayne Powell
_________________________________________________________________________________
L.T.U.niversity
Courses on approaches to understanding the "Other"
The Jewish JESUS, Teacher: Ze'ev Aviezer
Tuesdays, January 14, 21, 28 & February 4, 7:15 - 8:45 PM SIGN UP HERE
Jesus was born a Jew and died a Jew. This course will examine the Jewishness of Jesus and the points of opposition between Judaism and his teachings, in the context of the political, economic, religious and intellectual conditions of his time.
Problem Prayers for the Jewish-Christian "Double Helix of History", Teacher: Rabbi Larry Hoffman
Thursdays, January 16 & 23, 7:15 - 8:45 PM Sign Up Here
Ever since we came into being as spiritual siblings some 2000 years ago, Jews and Christians have circled round each other like a spiritual double-helix. Our mini-course sheds new light on some of our best-known prayers, by revealing them as products of (or problems for) ongoing Jewish-Christian dialogue, historically and in our time.
The Bible's Cutting-Room Floor…Ancient Answers to Good & Evil for our World Today, Teacher: Dr. Joel Hoffman
Thursdays, January 30 & February 6, 7:15 - 8:45 PM Sign Up Here
How can ancient editing enable us to respond to life's biggest questions?
Y Y Y Y Y Y Y Y Y Y Y Y Y Y Y
AND there is MORE to come!!
Adult Ed & Brotherhood Breakfast: Dr. Kareem Adeeb on Islam Sunday, February 9, 10:00 AM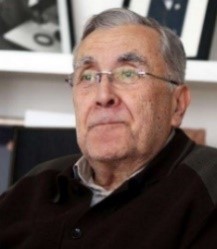 Dr. Adeeb, a Lebanese American and Sunni Muslim, will speak about his personal relationship with Islam. Dr. Adeeb is the Board President of the Interfaith Council of Southwestern Connecticut, the first Muslim ever elected to such a position in the history of the U.S. On alternate Fridays, at the invitation of the United Nations Institute for Training and Research, UNITAR, based in Geneva, he delivers a sermon at the United Nations. Dr. Adeeb is a linguist who speaks six languages and writes poetry in three.
Spring Speaker: Professor Samuel HeilmanMarch 22, 3:30 PM - 5:30 PM
Orthodox & Ultra-Orthdox Judaism in America
Professor Samuel Heilman will speak about Orthodox and Ultra-Orthodox Judaism in America.
Professor Heilman holds the Harold Proshansky Chair in Jewish Studies at the Graduate Center and is Distinguished Professor of Sociology at Queens College of the City University of New York.
Professor Heilman's book Defenders of the Faith was a finalist for the National Jewish Book Award for 1992. He is also recipient of fellowships from the National Science Foundation, the National Endowment for the Humanities, the Memorial Foundation for Jewish Culture, and the Mellon Foundation. He is listed in Who's Who in the East and Who's Who in World Jewry.
Sun, January 26 2020 29 Tevet 5780